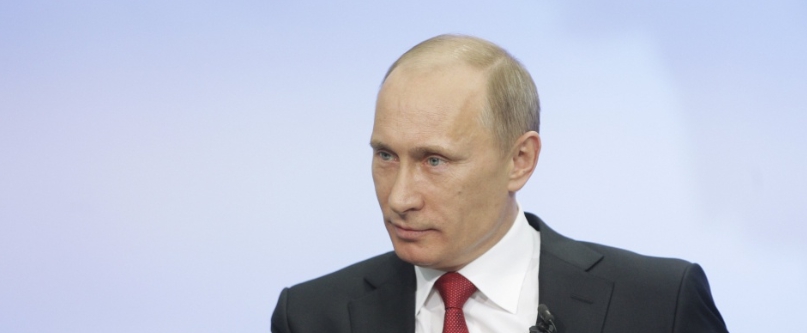 The Russian president is expected to formalize the six-year plan in a decree to be signed just after his May 7 inauguration, laying out plans for the "decisive breakthrough" in raising living standards that he called for in his annual state-of-the-nation speech in March, these people said, speaking on condition of anonymity to discuss matters that aren't yet public.
Some of the new spending will be offset with cuts in other areas -- the budget already calls for gradual reductions in military spending in the next few years after a boom during Putin's current term -- and revenue increases, possibly including tax hikes, these people said. Among those under consideration is the imposition of a new 4 percent sales tax, though that hasn't yet been approved. The plan's overall price tag, as well as details on how it will be financed, aren't likely to be spelled out in the initial announcement, however, these people said. It will be the biggest boost in government outlays since his last campaign in 2012.
Increasingly isolated by U.S. and European Union sanctions, Putin is searching for ways to get the economy back into high gear amid a slow recovery following the longest recession of his 18-year rule. While he's called for steps to stimulate private business and investment, the bulk of what he's expected to announce around the inauguration is likely to be state-driven, these people said.
Infrastructure, Health, Education
The latest plan has been in the works for several months and the overall price tag of 10 trillion rubles was calculated in recent weeks and could still be adjusted. Some of the new funding could begin this year, but the largest increases are expected to come after 2020.
The initial plan called for boosting spending on long-neglected roads and other transport infrastructure by about a third, with increases for health and education, which have also been underfunded for years, by about 20 percent. That version of the plan would amount to about 2.3 percent of gross domestic product per year, adding to the roughly 9 percent Russia now spends on the three areas. The final figures could differ from those somewhat, the people said.
How much of the latest increases would be offset by cuts in other spending and tax hikes isn't yet clear, according to the people. The recent rise in oil prices could ease the financial pressure on the Kremlin, potentially pushing the budget into surplus this year.
Kremlin Spokesman Dmitry Peskov didn't immediately respond to a request for comment.
By Evgenia Pismennaya and Ilya Arkhipov

https://www.bloomberg.com/news/articles/2018-04-23/putin-said-to-back-162-billion-spending-spree-for...