Credit Suisse is out with a note this morning that takes a closer look at this debate.
"We are in completely unprecedented times for the stock performance of the biotech sector," the note says, going on to point out that since the start of 2011 the NYSE Biotech Index has delivered 204 percent while the S&P 500 is up 64 percent in that time frame, and it's also up nearly 400 percent since the previous peak reached during the dotcom bubble of 1999 and 2000.
Despite the breathtaking rise, Credit Suisse does not think this is a bubble.
"We do not think we are in a 'biotech bubble' per se (ok maybe the pendulum has over-swung a little!), but rather in a new era for biotech driven by fundamental changes in large and SMID cap biotech. Large cap biotech has evolved from a 'Biotech 1.0' to 'Biotech 2.0' business model and delivering industry leading growth rates and margins. Despite this, large cap biotech still trades at lower forward PE multiples (with higher growth rates) than the S&P500. The SMID Cap business model has also changed to an 'owning the (potential) oil-well' from a 'pick-and-shovel leasing for small royalties on any oil discovered' business model. The robust financing window has facilitated this. 'Terminal value' of large caps and recent M&A premiums combined with 'all the cool science' add to the perfect (good storm) for SMID caps."
That being said, according to Credit Suisse, the sector has done something that no other sector has done before, which is outperform for 5 years in a row. You can see on this chart that biotech has beaten the competition every year since 2011.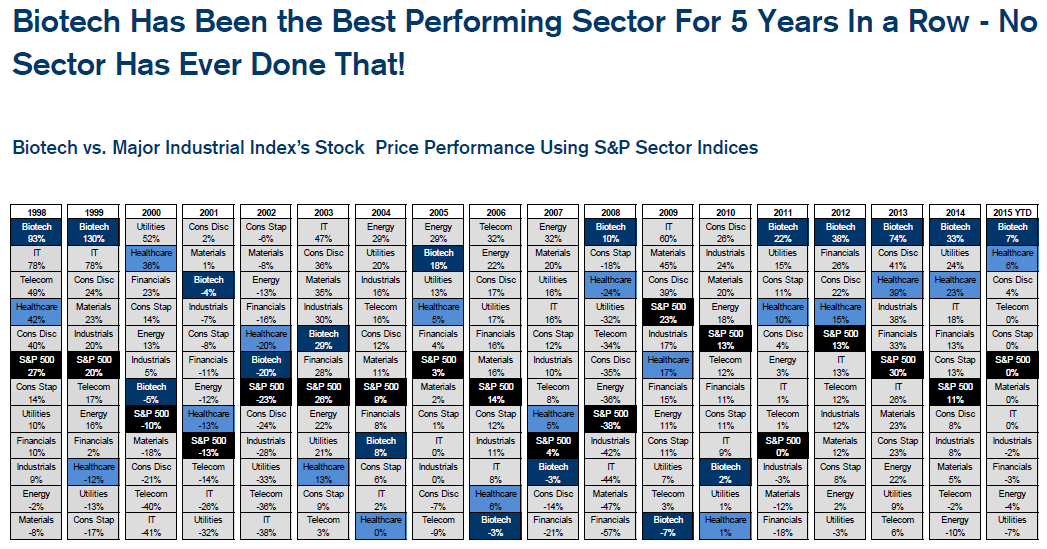 http://www.bloomberg.com/news/articles/2015-03-27/credit-suisse-surging-biotech-stocks-have-done-something-that-no-other-sector-has-done-before