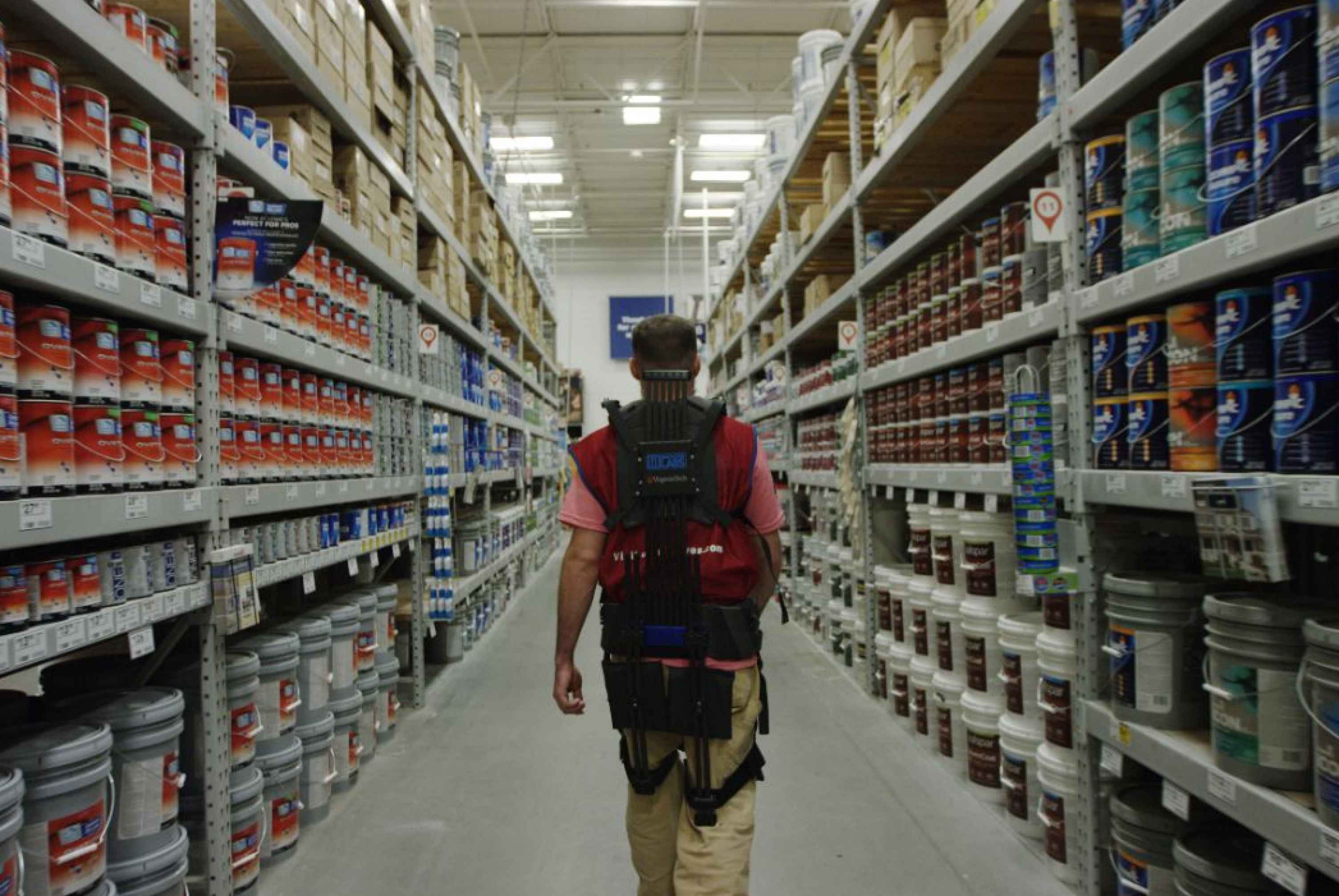 Lowe's Innovation Labs, the disruptive technology hub for Lowe's, worked with robotics expert Alan Asbeck, an assistant professor in the Department of Mechanical Engineering in the Virginia Tech College of Engineering who specializes in building wearable technology, to collaboratively design a prototype of an exosuit employees could wear to help make lifting products easier.
«Over the past couple of years, human assistive devices have become an area of interest," Asbeck said. «Our technology is different in that it includes soft and flexible elements, and our approach is unique in that we are putting our prototypes in a real-world environment for an extended period of time.»
Asbeck, along with four undergraduate and four graduate students in the Assistive Robotics Laboratory, has since been designing a soft, lightweight exosuit intended to reduce the fatigue some Lowe's employees may experience while on the job, which frequently requires lifting and moving heavy or bulky products. As the user bends and stands back up, the suit's carbon fiber legs act like a bow and arrow, storing the user's energy then returning it to them. This helps the user spring back up with greater ease.
The first four suits are currently in use by the stocking team at the Christiansburg store. During the coming months, Asbeck and his team will work with Lowe's to assess the physical impact of the suits. Lowe's will also lead employee engagement studies to better understand the impact that the exosuit has on the work experience.
«Lowe's is committed to exploring opportunities that improve the workplace experience," said Kyle Nel, executive director of Lowe's Innovation Labs, the company's disruptive technology hub. «As a way to support our employees, we found a unique opportunity to collaborate with Virginia Tech to develop one of the first retail applications for robotic exosuits.»
Taylor Pesek, a master's candidate from Richfield, Ohio, majoring in mechanical engineering, and Emily Beauchamp, a master's candidate from Norton, Virginia, majoring in engineering mechanics, are two of the eight students on the project. During development of the suit, Pesek focused on mechanics while Beauchamp focused on the ergonomics and soft elements.
«Projects such as the Lowe's exosuit really provide an opportunity for engineers who sit behind desks most of the time to really reach out and help other people," Pesek said. «My background was in robotics, where the technology was incredible, but still years away from showing up in everyday life. The exciting thing about this exosuit is that it will already be directly assisting people as it's being developed.»
Lowe's Innovation Labs launched the exosuit project as a way to make working in stores easier and more efficient, thereby improving employee well-being and customer service.
For Lowe's Christiansburg store manager Joe Sirico, employee safety during those everyday tasks is a top priority, making the debut of the exosuits in his store a welcome opportunity.
«This is a way to help keep our associates from being as worn out," Sirico said.
Sirico, who recently moved to the New River Valley from the Washington, D.C., area, said he was looking forward to a partnership with Virginia Tech.
«This project really pairs a company like ours that has been doing business and has been a part of this community for many, many years with an institution like Tech, and takes those two worlds and smashes them together, and we both come out stronger," Sirico said.
Following the initial pilot program, Lowe's will survey the impact of the program and look for opportunities to scale up. Meanwhile, in Asbeck's lab, the team will continue developing the technology and eventually will look for additional applications.
«My objective for day one is to make it work for Lowe's," Asbeck said. «Beyond that, my primary concern is always getting research into the real world and being as useful to society as possible.»
Asbeck was recently awarded the Interdisciplinary Rehabilitation Engineering Career Development Program's Movement and Rehabilitation Sciences training grant, a $135,000 award that will fund Asbeck's further study in exoskeleton use, particularly for rehabilitation. Previously, Asbeck was funded by the Defense Advanced Research Projects Agency to develop a soft exosuit for soldiers that assists human motion.
Source: http://vtnews.vt.edu/articles/2017/05/eng-lowesexosuit.html